WRA has been ranked Ohio's #1 STEM school by Niche.com for three years running! We offer a wide variety of STEM-focused courses through our Science, Mathematics and Integrated Studies and Design (ISD) departments, many of which are interdisciplinary. Our curriculum is designed to give all Reserve students a solid foundation in STEM disciplines with the option to go further through advanced study. The choices are vast—from Pathobiology and Cancer Immunology, Calculus and Computer Programming, to Learn to Make and Engineering & Fabrication. With the help of their STEM experiences, Reserve graduates are poised to enter college and the workforce as problem solvers, innovators, critical thinkers, and collaborators. The above video offers a fun glimpse, through the eyes of our students, into the Wang Innovation Center (WIC), our state-of-the-art experiential learning space that is at the core of our STEM experience. You'll also get a peek at our LAN parties, a popular weekend activity.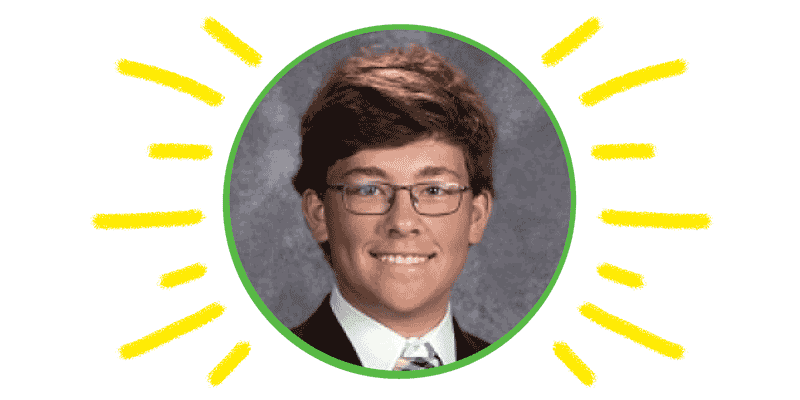 Last June, George became WRA's first Esports national champion! His specialty? Super Smash Bros. Ultimate. Read more about his victory here. George, a leader of the Technology Club, also took Service-Learning Engineering this fall. In this course, students participate in an organized service activity. They identify a need and use their creativity to apply scientific concepts in order to design, produce, and deliver real products that will be used by their chosen service activity.
George is a senior day student

His favorite class is the Power of Language with Mr. Zetzer (a College Level English course).

Outside of class, George is captain of the Esports team, a leader in the Technology Club and is part of Mock Trial.

His favorite dining hall meal is Chicken Tikka Masala.

George's favorite weekend activity is hanging out at the fire pits, "they're a nice relaxing break from busy life at Reserve."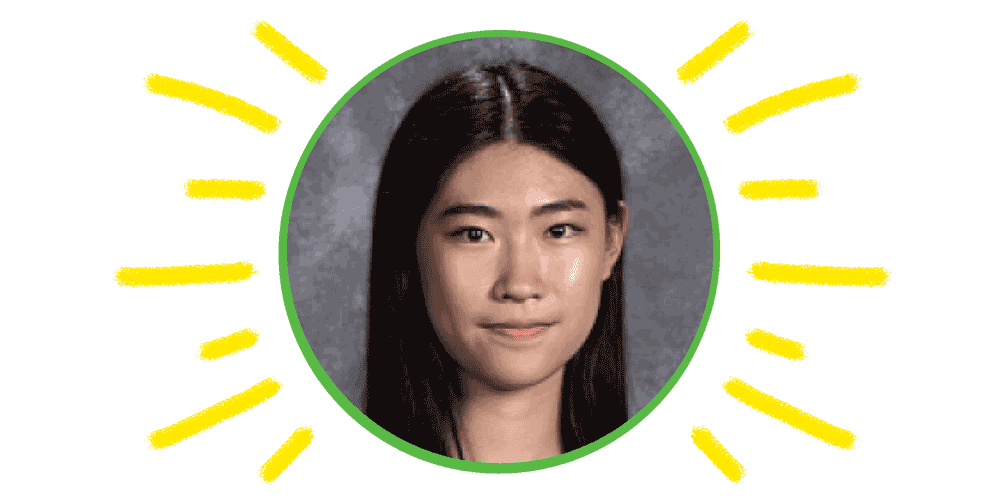 Vivian is active in STEM-related pursuits—she's involved in WRA's Synthetic Biology Team and a member of the Science Club. They participated in a "TEAMS" competition last winter. Reserve won first and second place!
sophomore boarder from Shanghai, China

Her favorite classes are Artificial Intelligence and Machine Learning with Mr. Gerber and History (Building the Modern World) with Ms. Horgan and Doc Rob (Dr. Robinson).

She is co-president of the sophomore class, founder of the UNICEF club, a student listener, a service leader, and a member of the college counseling steering committee. Vivian is also involved in Model UN—they just competed in two virtual conferences.

Her favorite dining hall meal is Fried Rice and the Chai tea!

Vivian's favorite weekend activities are "Find the Faculty" and any service-related events.

The Wang Innovation Center (WIC) is a 6,000-square-foot collaborative learning space where students can take ideas from concept to completion with state-of-the-art design and production equipment. The WIC creates opportunities for Reserve to transform the learning process by uniting faculty across departments and creating new classes and experiences. Centrally located, the WIC is connected to the Knight Fine Arts Center.

Learn to Code and Learn to Make are foundational courses that freshmen take through the Integrated Studies and Design Department. Students are given the skill set required to navigate their way through the WIC, skills that will be utilized across disciplines throughout their time at Reserve.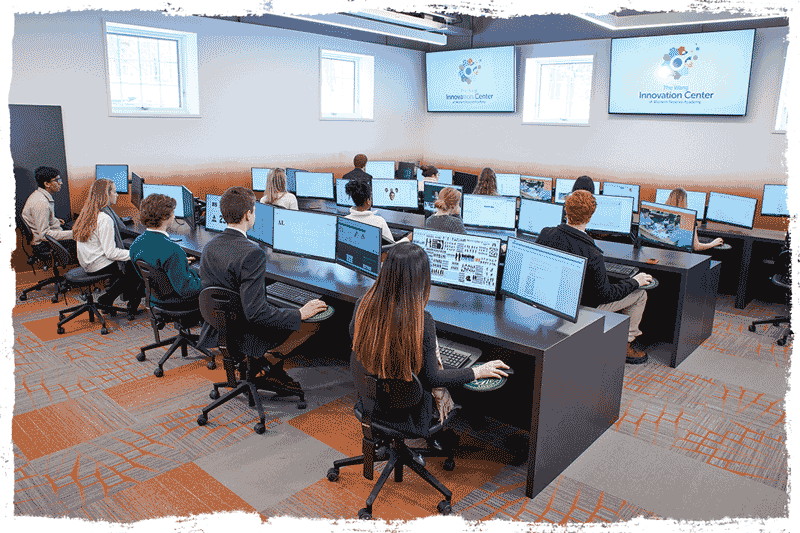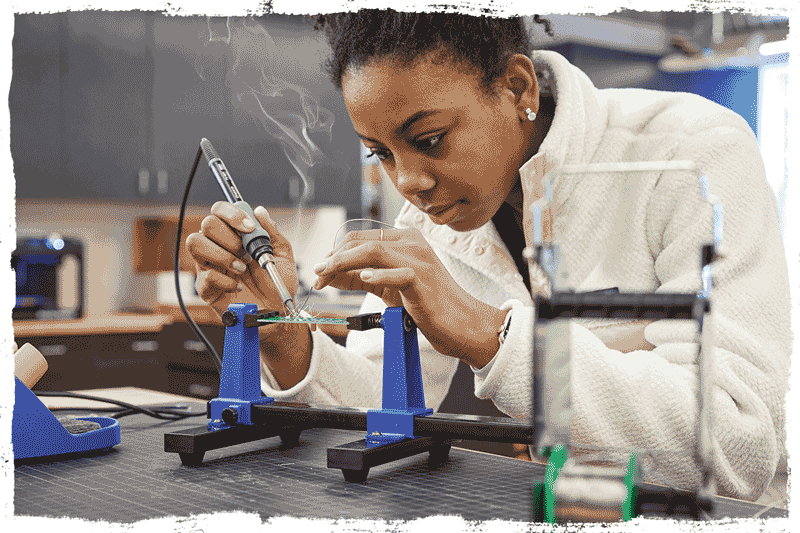 You get the nuts and bolts of all things coding and making during your freshman year, beyond that the options are limitless in the Integrated Studies and Design department! For those with an artistic flair, one can explore courses like E-textiles and Fabric, Costuming for Everyone, Book Arts, or Graphic Design & Illustration, where students are prepared to take the Adobe certification exam. Those with more engineering and coding on the brain have options like Automotive Engineering Design, Engineering and Fabrication, and Artificial Intelligence and Machine Learning, where students are introduced to Python programming languages and learn the fundamentals of robotic programming and operations. Upon completion of AI and Machine Learning, students will be prepared to earn their industry-recognized robotic operations and programming certifications!
Deep dive on Service-Learning Engineering: Remember George from the above Pioneer Profile? George's Service-Learning group designed a buffer zone for the WRA Hockey Pond. The buffer zone prevents fertilizers and chemicals from going into the pond. The need was originally identified by WRA's Ecological Sustainability Club. George and his classmates are working with the WRA Facilities team to roll this out on campus. Other teams in his class are working on Health and Human Service, and Education projects. All of the projects go through extensive surveying and analysis before they're confirmed. The teams have to create prototypes and do full proposals before they're allowed to finalize their project.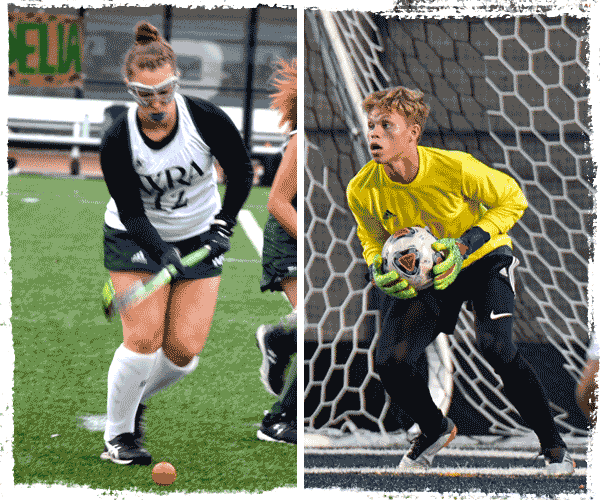 Two Gold Medals awarded at Reserve's Fall Athletic Awards
The Gold Medal Award is the highest athletic honor a student can receive at Reserve. This fall, the Gold Medal was awarded to Delia '21, who is among WRA's top all time field hockey point leaders and Sebastian '21, who had 13 shutouts in two soccer seasons and was voted as the 2020 Division III Greater Akron District Player of the Year. Read more about other fall athletic award recipients.
Join us for one of our Upcoming Virtual Events!